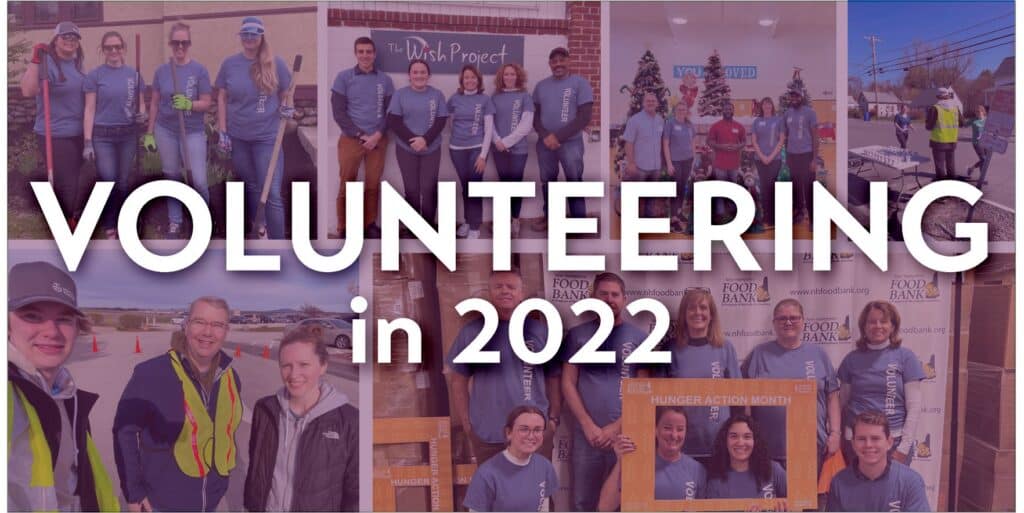 As we reflect back on the year, we celebrate professional accomplishments, personal achievements, and everything good in between. We couldn't step away from 2022 without also looking at how we've given back to our communities this year. Annually, we look back what our professionals did to help their communities and we couldn't be more proud of their dedication to causes they care about (check out who we helped in 2021 and 2020!).
Here are some of the organizations we volunteered with this year with some statistics for each. Check out our Charitable Giving page to learn more about our Volunteer Time Off Program. Read through the article for a list of other organizations we donated time to!
Green Mountain Habitat for Humanity
A Hoyle Tanner group from our Burlington, Vermont office volunteered with Green Mountain Habitat for Humanity to build an affordable, energy-efficient duplex home in Shelburne, Vermont. With some instruction from our Construction Manager at Green Mountain Habitat for Humanity, Chris Lane, our crew learned to work together to measure, cut and use a drywall lift to hang and air seal drywall to the second-floor ceiling of each side of these duplex homes.
The Wish Project
Five of our employees stopped by the warehouse in Chelmsford, Massachusetts to drop off donations and to lend a hand with The Wish Project's daily tasks. We got to work with clients, helping sort clothes and shoes, fill client bins, and more! The Wish Project's "goal is to provide our local people in need with basic furniture, home goods, and baby goods, while helping the planet by recycling used goods."
Mont Vernon Daland Memorial Library
Even the library needs a helping hand once in a while! We had two groups of volunteers to help the library located in Mont Vernon, New Hampshire; once in May and once in October. In total, we spent ~20 hours between the teams to help clean up garden beds by weeding, removing debris, and spreading mulch to protect library gardens.
Christian HELP
Every year, our Florida team gets together to volunteer at Christian HELP. The program touches over 250 families, and helps the lives of over 850 children! Christian HELP provides a free shopping experience for parents in need so their children have presents on Christmas morning and the family has a holiday meal for the holiday, groceries for the week, and any assistance they need to find a job. This year our team helped on the Christmas Decorating Team.
New Hampshire Food Bank
Members of our team used their Volunteer Time Off to participate in the New Hampshire Food Bank's Annual Mac Off Competition! This was our fourth year participating in this event that raises awareness and takes action in the fight against hunger. Our team packed over 7,000 meals for this great cause!
Granite United Way – Day of Caring
For this year's annual Day of Caring, our team worked at the YMCA of downtown Manchester. Our dedicated team put their organizational skills to great use as we cleaned out and reorganized their large sports closet!
Rwanda
Kayla Hampe used her volunteer time along with her own time to build a pedestrian bridge in Africa! She went with a team through Bridges of Prosperity. Read about her incredible story here.
Aviation Museum of New Hampshire
Hoyle Tanner sponsored a 5-mile run fundraiser event "Run the Rail Trail 5-Miler" for the Aviation Museum of New Hampshire. This event raised money for the Museum that goes directly to the Manchester School of Technology (MST) airplane build program. Thank you to Senior Airport Engineer Nicole Crawford for participating in the run! And to Division Manager of Northeast Aviation Services Bob Furey & his son for helping out at the event!
Operation Santa Claus
Each year, our team donates time and money to this cause that brings gifts to children and families in need. This year, we had 30 people participate in Operation Santa Claus and we sponsored 12 children!
In Total
As of December 1st this year, we had 33 employees use the Volunteer Time Off benefit for a total of 170 hours. Additional organizations that were supported through this not mentioned above:
ASCE-New Hampshire Section
CIJS of St. Cloud (school)
Intown Concord Market Days Festival
Town of Goffstown Voting
UMassLowell Capstone
UNH Capstone
Girls on the Run
Thank you to our employees who continue to help make Hoyle Tanner a charitable and caring place to work.