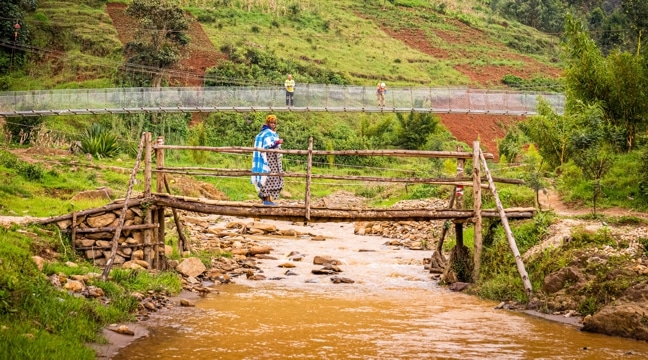 Featured Photo Credit: Envision Rwanda
The Opportunity of a Lifetime
In February, I was blessed with an experience of a lifetime that took me across the world and brought together my passions of helping people and structural engineering. It seemed like all the stars aligned to make this happen. So, what did I do? I got to travel to eastern Rwanda as part of a team of nine to help build a suspension trailbridge for a rural community. The opportunity is still surreal, even after doing it.
Bridges to Prosperity (B2P) is a non-profit organization that was founded in 2001 by Ken Frantz. He saw a photo in National Geographic Magazine that he couldn't ignore.
"The image showed men dangling precariously, using ropes to pull each other across a wide, high and broken bridge span over a portion of the Blue Nile River in Ethiopia… Within three months, Ken, who owned a construction company, donated time, money and materials and enlisted eager family members, friends and his Rotary club to support the inaugural B2P project. This first project, Sebara Dildi, repaired the bridge crossing along the Blue Nile in Ethiopia." – Ken Frantz, B2P Website
 And since its inception, hundreds of bridges have been built around the world in rural communities. B2P believes that rural isolation is a root cause of poverty and connection is the foundation for opportunity. Their mission is to build bridges to better lives in rural communities because they envision a world where poverty caused by rural isolation no longer exists.
In collaboration with B2P, the National Steel Bridge Alliance (NSBA) assembles teams of 10 to go on one of B2P's bridge builds. The teams are comprised of engineers from consulting companies, Department of Transportation (DOT) employees, and fabricators. NSBA's fourth build was supposed to occur in 2020 for a community in Rwanda. It was delayed due to the Covid-19 Pandemic, and some of the original members could no longer go. I was offered one of the open spots, and I jumped on the opportunity!
I knew about B2P for a few years prior to this, and I've been in awe and inspired by the work they do. I am one of those people who loves to volunteer and help others in need; I benefit from the activities just as much as (or more than) the people I am serving, so B2P is an inspiration to me. I've been on multiple mission trips over the years. I've had the privilege to travel to Honduras and work alongside community members to build community gardens, as well as tutor local children in English. I have been to the Dominican Republic twice over the last few years to build basic aqueducts with PVC pipes and holding tanks that provide fresh water to local villages from nearby springs. These people usually walk to the closest waterway (which may not be the cleanest with the livestock wandering around) to collect water and bring it back to their homes. If they are lucky, they have the help of a mule or donkey. The look on their faces when they see clean water coming out of a faucet outside of their house for the first time is unforgettable. Something we take for granted every day is a miracle in their eyes.
Being part of the NSBA's first Rwanda build team allowed me to combine my passions of volunteering and bridges. The Munini I suspension bridge would transverse the Kaganda River in the municipality of Karongi. The Project Profile sheet described the situation perfectly: The residents of communities surrounding the future Munini I Trailbridge are primarily farmers who cultivate various crops including tea, and potatoes. They rely on consistent access to markets to support their families by selling crops and purchasing necessities. However, the Kaganda River is too dangerous to cross when it floods and will stay swollen for days each time it rains. At times it can become impassable for weeks during the rainy season. During these times, children are effectively cut off from attending school, markets can't be safely reached, and neither can other critical resources like the medical center. Attempts at crossing the river when flooded have caused five reported deaths in the past three years alone. The Munini I Suspension Bridge will provide safe, year-round access for over 2,600 members of surrounding communities, providing enhanced access to opportunities to empower the communities out of poverty.
Prior to traveling, the team met several times with B2P staff to discuss important topics like construction and safety, corporate conduct and country culture, as well as logistics and communication. This preparation helped us get ready to hit the ground running once we were in the country. Each NSBA member had a critical team role that required preparation prior to travel and responsibilities during our trip. As primary Construction Lead, I led the development of daily construction workplans and construction schedule and oversaw the team's involvement in construction on the work site. I studied the bridge plans prior to the trip so that I was familiar with the design, construction sequence, and could help answer questions that my teammates and the community members had. I also had to familiarize myself with the limited tool list of the items that would be available to us. The build site is in a remote area without access to heavy equipment and consistent electricity, so I had to know what was there for hand tools and alternative solutions if the batteries died.
B2P usually constructs suspended bridges (think Indiana Jones and the Temple of Doom) or suspension bridges (think Golden Gate Bridge), and more recently they've developed a hybrid version of the two bridge types. The Munini I structure is a 206' long suspension bridge, supported by four 1" diameter cables hung over 23' tall towers and connected into concrete anchors. The deck is 3'-4" wide comprised of steel deck panels supported by steel channels painted with anti-corrosive paint. The deck is connected to the cables with bent rebar suspenders. There is a galvanized iron pipe on each side of the deck for added lateral stability, as well as fixation cables that run along the outside of the deck from one end to the other.
In the months prior to our arrival, community members and B2P staff brought all the materials to the work site and set up our temporary work structures including the tool tent and rest tents. They constructed a temporary bridge to provide safe crossing to all the workers during construction. They completed all the site work necessary to construct the bridge, such as excavation and leveling the areas, as needed. They also built the substructure elements including the tower footings, cable anchors, and ramps up to the superstructure. This allowed for the efficient construction of the superstructure once our build team was on-site.
Traveling to Rwanda from Across the US
Getting to the work site was no easy task. The final NSBA Munini I build team was comprised of nine members from across the country: Washington state to Texas to Tennessee to New Hampshire! We all started on different airplanes and had a minimum of two flights with a connection in Europe (I got to run through the Amsterdam airport thanks to an ice storm) and convene at a hotel in Kigali, the capital of Rwanda. Once in the country, we had a five-hour drive to our accommodations, which included about an hour and a half drive up a mountainous, bumpy dirt road. Our accommodation was a house with an eating area, sleeping areas (including cots with mosquito nets), a courtyard, bathroom, and shower room. From our accommodations, we had a 20-minute drive to the parking area, and then a 20-minute hike down to the work site. The hike up was not 20 minutes for me, though! Although it was less than a mile, the elevation change was about 550'. Did I mention that the elevation there is about 7,500' above sea level and I live near the seacoast? It was definitely a challenge.
While on site, we worked side-by-side with community members and B2P staff. Each morning we'd start around 8:00 am with a bend and stretch session to keep our muscles safe while we worked, and then we would talk about the tasks for the day and safety considerations that went with each task. We then divided up and started on our tasks for the day. We took a lunch break around 12:30 pm, and then went back to it until 4:00 pm when we had to clean up for the day and head back to the accommodation.
We managed to build the whole superstructure (the above-ground portion) in 10 days! We had 11 days to complete it, but we finished a day early. The superstructure construction consisted of: tower assembly and painting, scaffolding installation on the river side of each tower, lifting the towers with cable and winch, cable installation and securing, cut and bend suspenders, assemble "swings" (suspenders and deck channels), launch swings to meet in the middle, install deck panels, install end posts at ramps, install pipes and fixation cables, install fencing, finish ramps, sign bridge, decorate and celebrate during inauguration! It was amazing to see the bridge take shape step by step.
Climbing self-constructed scaffolding to install 1" diameter cables over towers lifted by a winch and people-power still boggles my mind. I never imagined that I would have the opportunity to do something so unique and life changing.
My favorite construction day might be considered one of the more tedious ones, but also one of the most important ones. After the deck panels were installed, all the bolts connecting the panels to the c-channels had to be torqued. Each channel had 12 bolts, and there were 62 channels…that's 744 bolts! I was paired with a community member, Jeanne, and together the two of us started at one end of the bridge and torqued our way down the length to the other side. Jeanne only knew a few English words, and I only knew a couple Kinyarwanda words, but it didn't matter. We both knew what needed to be done and worked companionably together to get the bolts torqued.
During inauguration, a few of the community members that helped build the bridge spoke to what the construction and bridge means to them and their family. With translation help from our B2P site liaison, Zhura, Jeanne told us her story. She is one of the community members that lives on the far side of the bridge. One day, she had a medical emergency and needed care. However, due to the high water level of the Kaganda River, she wasn't able to get to a medical center, and had to stay home and suffer. But now, with this suspension bridge that she helped to construct, that won't happen again. It has changed their lives forever. And I was blessed to be a part of it.
Because of construction wrapping up early and flight delays, we got to enjoy the stereotypical African adventure and go on a safari! We traveled to Akagara National Park on the east side of the country. We spent the night at a hotel in the park and spent the next day exploring. The day wasn't without a little drama though. After an enjoyable boat tour where we got to see hippos, countless birds, and an elephant, our drive started with one of the trucks having a mechanical issue. We had to return to the park registration building, where the team remained for a couple hours while our truck went to get fixed. Amazingly, the mechanics were able to fix the truck and we started off again!
Even with the delay, we managed to traverse the full park and make it to the northern plains where we had a better chance to see lions. On the way, we saw hippos, white rhinos, baboons, water buffalo, giraffes, wild pigs, impalas and so many different birds! And yes, we did get to see a pair of lions, too! It was an amazing way to top off a trip of a lifetime.
And it was a trip of a lifetime during a pandemic! From before we left the US, during our trip, and once we returned, we were all hyper-aware of the Covid-19 pandemic at home and abroad. We had a couple scares right before leaving, but everyone on the team tested negative for Covid and was able to go. The PCR test within 24 hours of getting on our first flight was the first of many tests throughout the trip. Due to Rwandan requirements at the time, we had to be tested three days after we arrived…which was our first day on site! Luckily, B2P managed to arrange getting a tester to the construction site for us, so it didn't interrupt our build. To keep everyone safe, we wore masks on site when we couldn't socially distance. They wouldn't be my first choice of construction accessories, but we managed to make them look good! And they worked as they needed to – no one on our team (and none of the community members) got Covid during our build. In total, I had 11 Covid tests done! It did add a unique aspect to the trip, but overall, everything went really well considering the situation. And I wouldn't hesitate to do it again!
What Surprised me Most
Throughout the trip and reflecting back, there were a few things that surprised me. One was the lack of wild animals. Each day, we passed plenty of livestock including goats and cows, but I don't remember seeing a single wild animal other than birds; no squirrels, no chipmunks, no snakes (thank goodness!), nothing! I asked Zhura about this; she said that although we were in the countryside, there are so many people that animals don't like to live in these areas.
Another thing I noted, was that although we traveled both to the west part and the east part of the country, I don't remember ever driving under a bridge or over an overpass. They may exist, but they're not prevalent like at home. They have vehicular bridges to cross the rivers, but that's all I noted.
One of the things I am most in awe of are the people. They are tenacious and hard-working. From watching them carry stacks of wood or crates of soda on the back of bicycle, to working on the side of a hill to till the land for crops, to carrying babies on their back with a sack of potatoes on their head (while talking on the phone!), to helping build a suspension bridge for their community – just amazing. I watched the community members lift heavy metal sections of the bridge and haul them to the other side of the river and then proceeded to jog back to do it again. They constantly worked and never slowed down, unless it was time to eat or return home – but even then, they hiked back up the hills with energy I was envious of. They are kind and always willing to lend a hand and help. I am honored to have had the chance to work alongside this amazing community.
Driving through the country and back and forth each day was one of the best parts of the trip. Rwanda is a beautiful country with many crops covering the hills. There are also people everywhere, and my favorite part of the drive was seeing the children and how happy they were, and we loved to greet each other. It didn't matter that we spoke different languages and only knew a couple words of Kinyarwanda; our smiles and waves spoke volumes for us. 
One morning we started our day by going to a local school near our accommodation house that we drove by every day. Prior to our trip, we were encouraged to bring donations for the local community; in particular, toys that could be shared by the children like soccer balls, jump ropes, footballs, and nerf balls. The kids and teachers came out to the field to greet us. The ages ranged from about 3- to 18-years-old. They sang and danced for us; the energy was amazing! There was so much fun and joy radiating from everyone, it would have been hard not to smile and laugh. A few of the team members even joined in! We then introduced ourselves, with Zhura acting as translator, then more fun ensued. We passed around our donations and started playing with the kids and students. I brought a polaroid camera, so that I could take photos they could keep. Both the students and teachers loved this! It seemed like everyone wanted a photo with friends or with us. I took as many as I could with the time allowed. After a couple hours, the students had to return back to their classes, and we continued on to the construction site. 
I would love to go back to Rwanda; either to help construct another bridge or visit as a tourist to experience more of their wonderful country. Although Rwanda is only about the size of Massachusetts, it is full of life and experiences. I always felt welcome. I usually felt safe, too…the driving is a bit scary, but everyone driving seemed like pros, and I didn't see a single accident on the roads!
Although I may not make it back to Rwanda soon, I still plan on helping my community, both locally and globally, as much as I can. Whether that's donating my time or funds, I cannot wait for the next opportunity. I love to share my experiences and help others get involved. If you have any questions or want to learn more, feel free to reach out to me!   
Check out the full video of the experience!