Inevitably when I tell someone that I am civil engineer that designs airports the first question they ask is, "So do you work at Orlando International Airport"? I then go on to explain that I work mainly at smaller, public General Aviation airports such as Martin County Airport, Flagler Executive Airport, Lake Wales Municipal Airport and Kissimmee Gateway Airport, to name a few. Even though these airports are smaller and not as well-known as their international and national counterparts, General Aviation airports play an important economic and transportation role in Florida. A common misconception is that all aviation activity generates from the large commercial airports, but the Florida Department of Transportation's (FDOT) Aviation System Plan states "The Florida airport system comprises 20 commercial service and 109 General Aviation airports."
With over 100 General Aviation airports in the state, their contribution to the air-traveling public cannot be overstated. It's important to note, however, that these airports are designed and used very differently.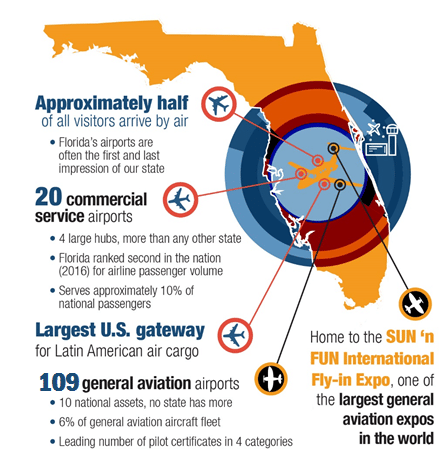 COMMERCIAL SERVICE AIRPORTS
For a majority of the flying public, most of their experiences with flight occur at a commercial service airport. The Federal Aviation Administration (FAA) defines commercial service as "publicly owned airports with at least 2,500 annual enplanements and scheduled air carrier service."
Some of the more well-known commercial services airports in the United States include Denver International Airport (DEN), Dallas/Fort Worth International Airport (DFW) and O'Hare International Airport (ORD). Commercial service airports serve as the point of exit and entry across the globe to millions of travelers each day. Commercial service airports are an essential transportation element for moving cargo and other goods. They are typically connected to other public transportation systems creating a multi-modal system. In terms of infrastructure, commercial service airports typically have longer runways with thicker pavements, and the airfield layout is often more complex consisting of parallel runways and other ground transportation systems. Many commercial airports have larger terminals that provide shops, restaurants, lounges, rental car facilities and entertainment for the convenience and enjoyment of the passengers.
GENERAL AVIATION AIRPORTS
As important as commercial service airports are to the national aviation system, I would say  that General Aviation airports are even more important.
If you ask the Aircraft Owners and Pilots Association (AOPA), they would agree with me. From their General Aviation Explained booklet, "more than 90% of civil aircraft registered in the United States are General Aviation aircraft. And, more than 80% of pilots certificated in the U.S. fly General Aviation aircraft. General Aviation generates more than $247 billion in economic activity annually and supports 1.2 million jobs."
In basic terms, General Aviation airports are airports that do not have scheduled service or do not have more 2,500 enplanements per year. FAA categorizes General Aviation airports into four categories: National, Regional, Local and Basic. These categories are based on the airport's activity level and determine the airport's role in the national airspace system.
All forms of recreational flying are considered General Aviation. General Aviation airports support all types of aeronautical activities including flight instruction, agricultural support, personal flying, business travel, law enforcement and medevac operations to name a few. Many of these functions would be difficult for a commercial service aircraft to accommodate in conjunction with scheduled airline service.
Because of their size and locations, General Aviation airports can provide important and sometimes critical access to more remote areas. They can also act as potential diversion points for pilots in distress due to unforeseen conditions or other emergencies. While they do not compare in size to commercial airports, there is no one-size-fits-all approach to General Aviation facilities; they can have facilities and runways of all shapes and sizes.
BEST OF BOTH WORLDS
As an airport engineer, regardless of if you are working at a commercial service airport or a General Aviation airport, the goal remains the same: Develop an airport compatible with the community it resides in while meeting the demands of the aviation community and the natural environment. Whether you are jet-setting around the globe or working on getting your private pilot certificate, both commercial service and General Aviation airports share the same purpose – connecting people through the wonder of flight.
Our aviation engineers are experts at using design and construction services to meet the distinct needs of a particular airport. We're a partner to bounce ideas off, brainstorm with, troubleshoot, and call with any emergency. Our aviation service capabilities include design, natural resource permitting, document preparation, construction administration, airport management support services, and airport financial analysis. For aviation services in Florida, please reach out to me!