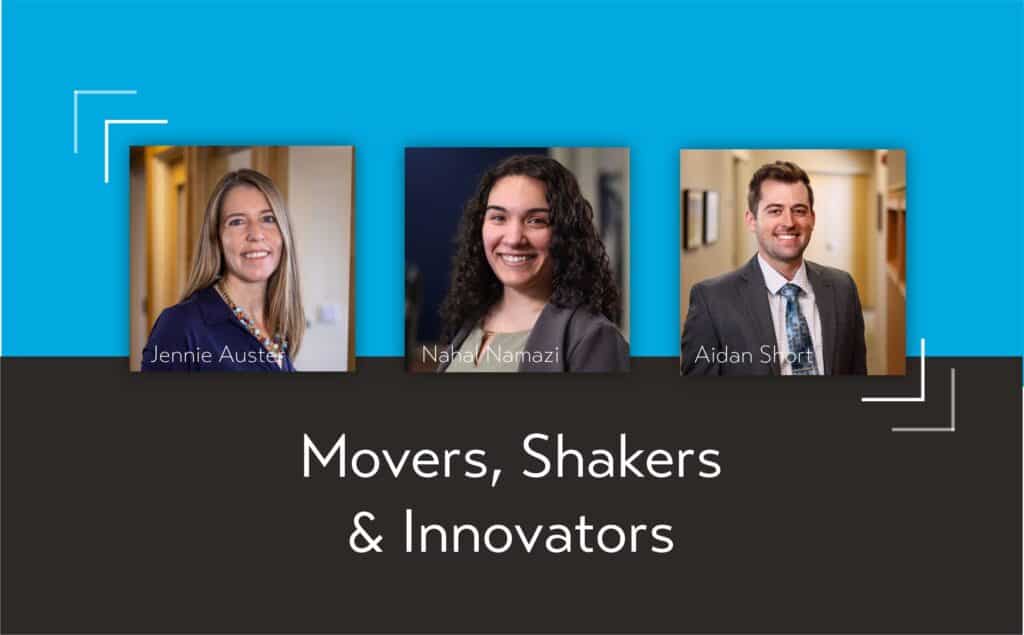 This year, our firm launched the Movers, Shakers & Innovators Program to give formal recognition to our hardworking and dedicated employees. This quarter, Jennie Auster, Nahal Namazi and Aidan Short were recognized by their peers for going above and beyond their daily activities. Here is what their nominators said about the Q3 winners:
Jennie Auster, PE – Vice President & Senior Environmental Engineer
Jennie has transformed our wastewater engineering practices since joining the firm just three short years ago. She has had a varied environmental engineering career with a focus on wastewater treatment process engineering as well as drinking water treatment and asset management. Jennie has provided engineering services for study, design, and/or construction for over 35 wastewater systems in New England. In addition to senior-level project management and technical leadership at Hoyle Tanner, she works with communities to optimize funding opportunities.
FROM THE NOMINATOR: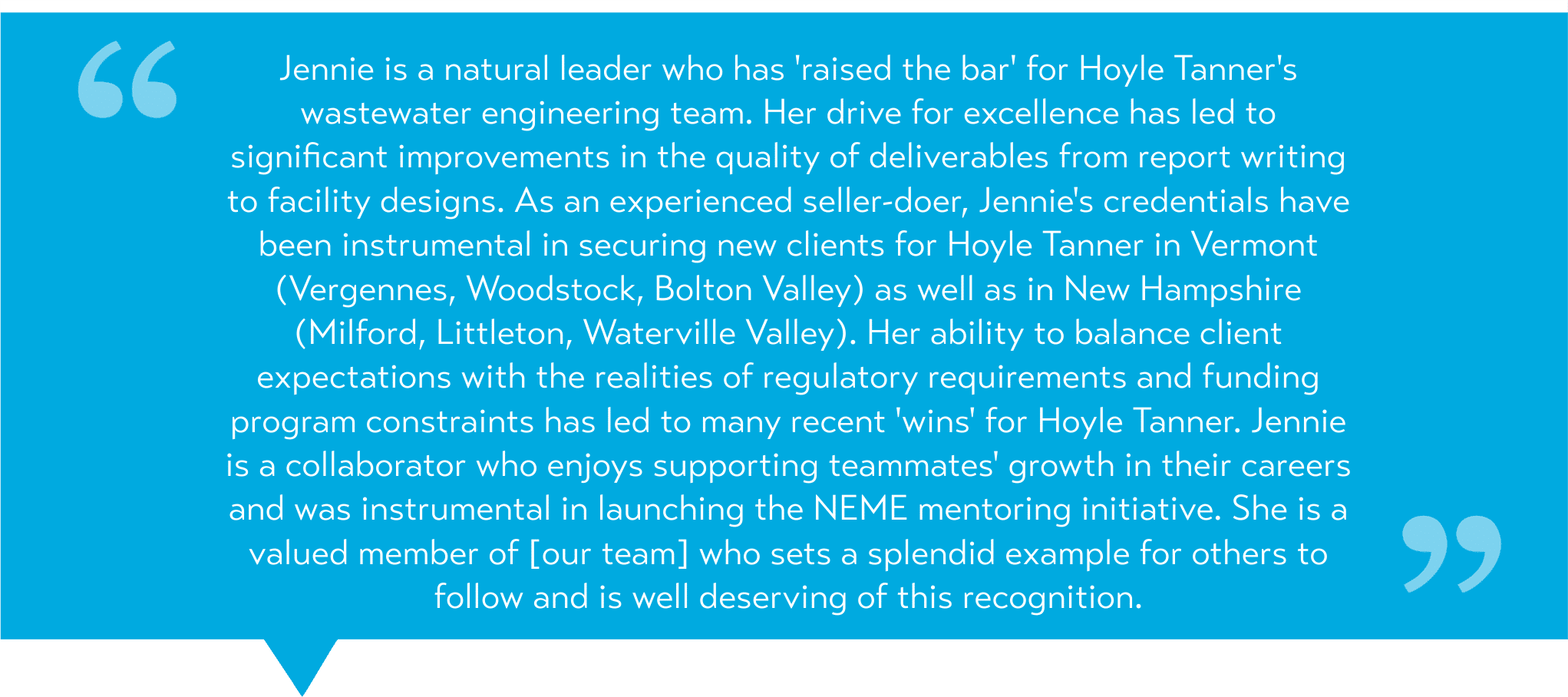 Nahal Namazi – Accountant
In the six years Nahal has been at Hoyle Tanner, she has been devoted to improving our accounting processes and improving her own skills. She has pursued her Master's of Accounting while working full-time and maintaining high work standards. Nahal's proactive and positive demeanor has been essential in upholding the financial health of our clients' projects.
FROM THE NOMINATOR:

Aidan Short, EIT – Environmental Engineer
A recent graduate and master's degree recipient from the University of New Hampshire, Aidan specializes in analysis, modeling and design of hydraulics- and hydrology-related engineering applications. During his time at Hoyle Tanner he has contributed this knowledge to culvert replacement, drainage and stormwater design, pumping stations and wastewater collection system expansion projects, among many others. Aidan has been with us for only three years and is always bringing new ideas to our team!
FROM THE NOMINATORS:
I've had the pleasure of working with Aidan in the RISER group and am impressed with his willingness to step forward and be a co-chair of this group. In that position, he has taken it upon himself to compile all of the documentation that the group is writing into a polished and professional Climate Action Plan (CAP) that we will be submitting to the Board of Directors. Preparing a corporate CAP is something that I am personally very much in favor of and establishing the RISER group shows that Hoyle Tanner is committing resources to enable not only our company to be a proponent of change to better our planet and reduce global warming, but to allow the professionals here at Hoyle Tanner to explore ways to bring that commitment to work for our clients as well.

Aidan is also a leader in the company's RISER effort to develop Hoyle Tanner's climate action plan. He runs the meetings and puts in time to evaluate where the group is in the process and identify next steps. Plus, he was key in getting ping-pong to Manchester and setting up opportunities for all staff to connect through the tournaments.