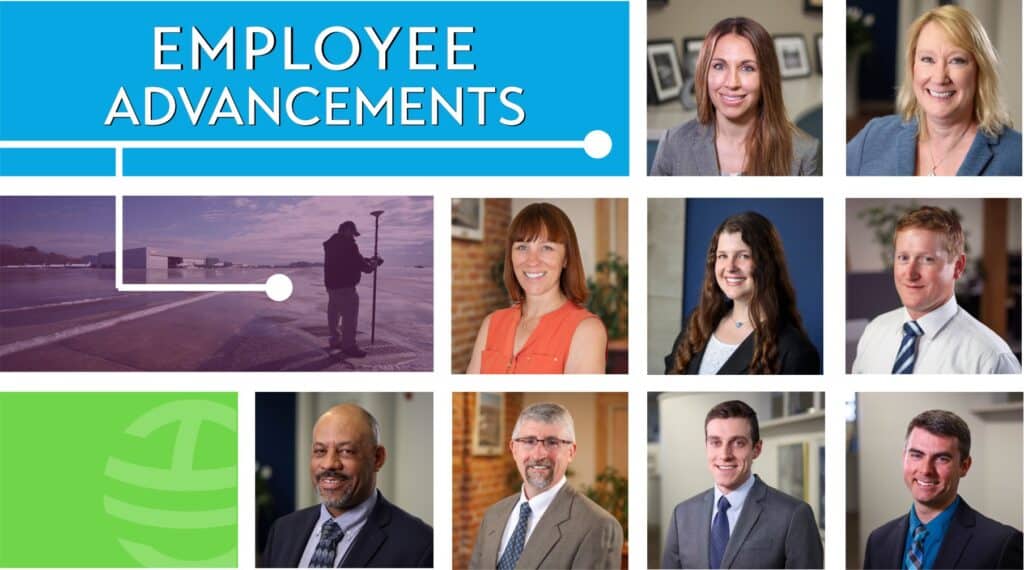 We are excited to announce the advancement of the following individuals who are being recognized for their service to the firm, our clients, and our communities. Two of the following professionals were promoted from Associate to Vice President, and seven to an Associate title.
Newly Elected Vice Presidents
Marisa DiBiaso, PE – Senior Civil Engineer & Project Manager
Marisa manages and designs civil infrastructure and recreational projects for municipal, state and private clients. Recent experience includes city parks, aquatic facilities and pools, playgrounds, and public gathering spaces such as the Mill Girl Stairs in Manchester. She also manages the technical and financial aspects of civil/site, roadway and structural engineering projects including client coordination, as well as preparation of schedules, budgets and proposals. Marisa is proficient in coordinating the permitting aspects of these projects, including Alteration of Terrain permits though NHDES. She has been with Hoyle Tanner for 10 years and has meaningfully contributed to almost all of our disciplines. | Read her blog on landslides.
Kimberly Peace – Senior Environmental Coordinator
Kimberly has been a core team member for a decade, helping disciplines with all environmental coordination and permitting aspects. She thoroughly understands the intricacies of federal, state, and local ordinances and regulations required for successful project completion in a timely manner. She has extensive experience in National Environmental Policy Act (NEPA) compliance and the preparation of Categorical Exclusions (CATEXs), Environmental Assessments (EAs), and Environmental Impact Statements (EISs) in accordance with the varying guidelines developed by federal environmental regulatory agencies, including FAA, FHWA, USACOE, USFWS, the US Forest Service, EPA, DOE, and FERC. She is also experienced in wetland delineation, permitting, and mitigation design. She has technical experience with identifying and protecting natural resources – including rare, threatened, or endangered species – in all six New England states, as well as New York, South Carolina, and Florida. | Keep an eye on our blog for Kimberly's expertise or read her latest article about the Clean Water Act.
Newly Elected Associates
Iryna Afong, PE – Project Manager & Senior Airport Engineer
For 16 years at Hoyle Tanner, Iryna has provided airfield engineering design and support in accordance with FAA design Advisory Circulars and FDOT criteria. Areas of experience include analysis and design of airfield pavements, geometrical layouts, drainage design, electrical design permitting assistance, project reports, and resident project representative (RPR) engineering. Additional duties include preparing contract documents, technical specifications, and construction drawings for bidding and construction. | Visit our Aviation Services to learn more about what we do for this discipline.
Kayla Hampe, PE – Senior Structural Engineer
Kayla has broad structural engineering experience spanning bridge rehabilitation, traffic control, building cladding, and roof analysis. She also has more extensive experience focusing on structural engineering for bridge design and hydraulic engineering related to bridge design. Her bridge rehabilitation design experience includes temporary support and shielding projects, plate girder rehabilitation, and truss deconstruction. She is experienced in applying the AASHTO LRFD Bridge Design Specifications and the AASHTO Manual for Bridge Evaluation, which she applies to the design of new bridges and existing bridge load ratings. Her hydraulic and structural engineering knowledge work together to help her design new bridges. Kayla was named the New Hampshire Young Engineer of the Year in 2022. | Read Kayla's articles about her bridge-building journey in Rwanda and her applications of 2D hydraulic models.
Owen Krauss, PE – Project Manager & Senior Structural Engineer
Owen is a structural engineer with over a decade of experience in design, analysis, construction, inspection and rehabilitation of bridge and other highway, railroad, dam and building structures. Throughout his career, he has been involved in numerous projects ranging from new bridge design, construction engineering, building design, dam rehabilitation, bridge inspections and project management. Owen's responsibilities include designing structures according to the most recent and applicable design codes and industry practices. He also works with peers and mentors junior engineers to determine design solutions that provide clients with the most economical, efficient, practical, and responsible option.| Read about how he overcame an aggressive design schedule to replace a bridge in Maine.
David Langlais, PE – Regional Business Manager – Massachusetts
David's role at Hoyle Tanner has changed a lot over his career. He started with construction services where he specialized in administering construction-phase services on projects ranging in size from municipally-managed to statewide DOT. He was frequently called upon to act as a liaison between clients, contractors, and abutters to ensure that all parties' concerns were communicated effectively. Today, David draws upon 20 years of construction field experience and numerous hours of safety training to assist Hoyle Tanner's Safety Committee with the implementation and employee adherence to site-specific safety requirements. He is our regional business manager for our Massachusetts clients; he also serves on the Business Development Committee at Hoyle Tanner, as well as ACEC-Massachusetts where he is on the board of directors. His work ethic makes him a great leader, and his approachable personality and innovative ideas make him a great asset. | Read his article about what it means to be a safety coordinator.
John Reilly, PE – Senior Environmental Engineer
John's experience is in managing civil, environmental, and water infrastructure projects. His expertise includes planning, designing, and constructing centralized and decentralized wastewater collection, conveyance and treatment systems, stormwater collection, treatment systems, and potable water treatment, storage, transmission, and distribution systems. He has developed and dedicated his expertise to Hoyle Tanner projects for 15 years. | Read about two of his award-winning projects.
Joseph Ripley, PE – Project Manager & Senior Structural Engineer
Joseph's experience includes bridge design, inspection, load rating, shop drawing review, and construction observation for NHDOT, MaineDOT, VTrans and NYSDOT and numerous municipal clients. His experience also includes inspecting and rehabilitating various other structures, including covered bridges and parking garages. Joseph is fluent in multiple software programs such as Merlin-Dash, LEAP Bridge, GROUP/L-Pile, STAAD and MicroStation. Joe has spent his 12-year career at Hoyle Tanner, and we are lucky to have him. | Read his blog, What Top Gun can Teach us About Emergency Projects
Jacob Sparkowich, PE, PTOE – Senior Transportation Engineer
Jacob's expertise is in roadway and traffic engineering to meet the transportation challenges and opportunities of clients, including New Hampshire municipalities and New England state agencies. He has extensive experience in developing roadway geometrics and site grading, temporary and permanent traffic signal designs, hydrologic and hydraulic calculations, stormwater BMP design, and utility mapping. For projects large and small, his proficiency includes working with a multitude of design software platforms, including Synchro, SimTraffic, SIDRA, MicroStation, InRoads, OpenRoads, Autodesk Civil 3D, SignCAD, and HydroCAD. Jacob is celebrating his 10-year anniversary with Hoyle Tanner this year. | Read his articles on Why We Don't Design Roads for Holiday/Summer Traffic Volumes and Traffic Modeling 101.
Please join us in congratulating our dedicated professionals who continue to shape our firm.
*It's Hoyle Tanner's 50th anniversary this year! Keep an eye on our Facebook, LinkedIn, and Twitter feeds for articles and anniversary news!