Kayla Hampe, PE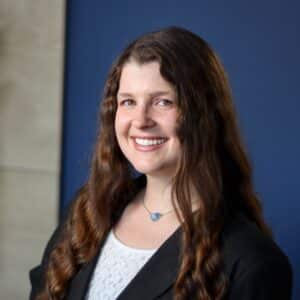 has been selected by a jury of her peers from New Hampshire's engineering societies as the 2022 New Hampshire Young Engineer of the Year. This distinguished award will be presented February 22nd at the annual Engineers' Week banquet in Concord, New Hampshire. Kayla was nominated by Structural Engineers of New Hampshire (SENH) based on her record of professional accomplishments, service to the profession and promoting engineering and volunteer activities in the community.
Kayla earned her Civil Engineering Bachelor of Science degree (2010) from the University of New Hampshire (UNH) and her Structural Engineering Master of Science degree (2012) from Lehigh University. She maintains professional licensure in New Hampshire and Maine and is an active member of SENH, serving as both the co-chair of the Professional Development Committee and SENH's representative to the National Council of Structural Engineers Associations (NCSEA) External Communication Committee.
In her current role as Structural Engineer at Hoyle, Tanner & Associates, Inc. and throughout her 10-year career, Kayla has performed inspection, rating, design, rehabilitation and construction inspection of numerous steel and concrete bridges. She has developed an expertise in the latest method of hydraulic analysis (2-D modeling) and has applied this to new, rehabilitative, and scour countermeasure bridge designs throughout New England.
When she is not practicing engineering, Kayla regularly gives back to future engineers and her community. For multiple years, she has worked with UNH senior civil engineering students as an Advisor on student-led project designs, providing guidance and real-life lessons. She has also served as a volunteer with the Apostolate to the Dominican Republic where they constructed water distribution systems in communities in remote parts of the country. For anyone that knows Kayla, they know she is an avid pet lover volunteering regularly at the Stratham SPCA, working to save the lives of companion animals through rescue, rehabilitation, and adoption. Her latest volunteer effort is with Bridges to Prosperity where she will travel to Rwanda to serve as an Engineering Manager for construction of a new 207-foot span suspension footbridge.
Kayla resides in Newmarket, New Hampshire with her family and spends as much time as possible in the summer at the lake.
Please join us in congratulating Kayla on this great achievement!