Bridge Conditions
In Peterborough, New Hampshire, there's a bridge that was built back in 1958, spanning 189′ long and 43′ wide over the Contoocook River. This bridge is a crucial link for US Route 202 and NH Route 101, with around 17,000 vehicles crossing it daily. Unfortunately, the bridge has deteriorated over the years and become structurally deficient, so it needed some repairs or a complete replacement. NH Route 101 is a vital east-west corridor that plays a significant role in transporting people and goods, supporting both the local economy and the broader New Hampshire region. The Town of Peterborough requested the addition of a sidewalk on the bridge, and traffic studies showed the necessity of an eastbound left turn lane to alleviate congestion and enhance safety for drivers turning north onto Granite Street (US Route 202). These improvements are crucial for the smooth traffic flow and to ensure the safety of drivers and pedestrians using the bridge daily.
Hoyle Tanner evaluated the bridge condition and structural capacity as part of the project to determine if rehabilitation was feasible. The New Hampshire Department of Transportation provided record design calculations for the two supporting river piers. Based on our structural analysis and review of the existing design calculations, our engineers determined that the piers did not meet today's more stringent design code requirements. Thus, based on the bridge's condition and structural analysis results, the team determined that the bridge would be replaced with a new 186'-3″ long, 62' wide, two-span bridge.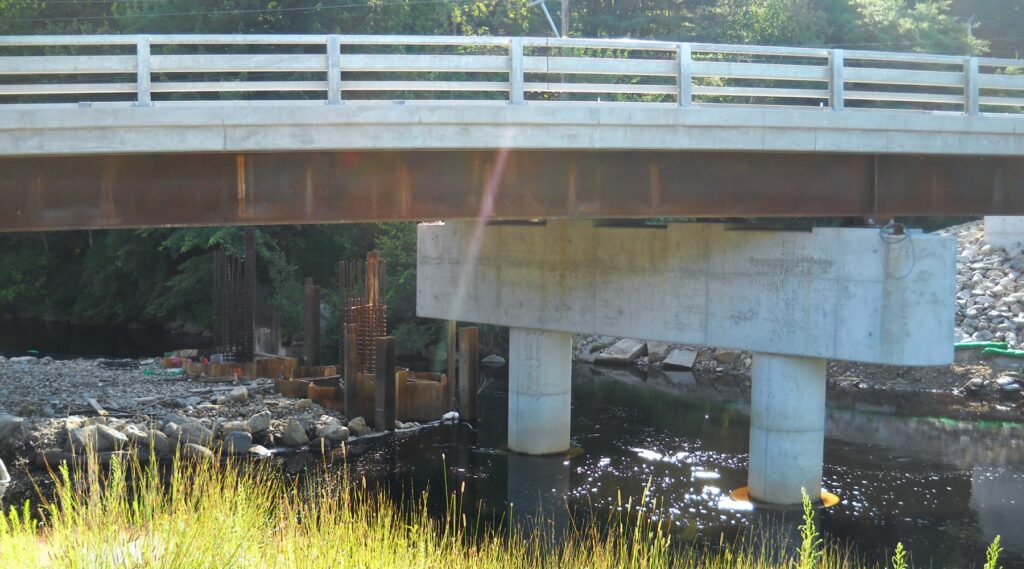 Maintaining Two Lanes of Traffic Throughout Bridge Construction
Because of the high daily traffic volume, keeping two lanes of traffic open during construction was necessary. Building a temporary bridge wasn't feasible due to nearby buildings, intersections, and other site constraints. As a result, the decision was made to construct the replacement bridge in two phases, ensuring that one lane of traffic would remain open in each direction throughout the construction process.
Another important aspect of the project involved adjusting the alignment of the new abutments and pier. This change aimed to reduce the skew angle from the existing 45 degrees to 30 degrees, which would improve the performance of the new bridge. However, implementing this modification presented challenges in designing the construction phases. Hoyle Tanner developed detailed traffic control plans, construction sequencing, temporary signal layout and timing, existing structure removal limits, excavation support limits and checked vertical and horizontal dimensions to ensure the project could be built without interference while maintaining access to adjacent businesses and Granite Street.
Currently
Construction of Phase 1 has been completed with traffic diverted to a portion of the new roadway and bridge. Phase 2 construction is underway with the East abutment construction completed and the contractor building the pier and west abutment. Once Phase 2 construction of the bridge and roadway is completed, traffic will be moved into its final configuration. Construction is anticipated to be completed in October 2023.
Bridge Services
Our team has extensive experience in rehabilitating historic structures and NBIS bridge inspection. From bridge design, safety inspections, capacity ratings, emergency response services, or just recommending which problems to prioritize, we've truly seen it all and are committed to each project because we're committed to the communities where we live and work. Reach out to me if you have a project or questions about a bridge in your community!
*It's Hoyle Tanner's 50th anniversary this year! Keep an eye on our Facebook, LinkedIn, and Twitter feeds for articles and anniversary news!