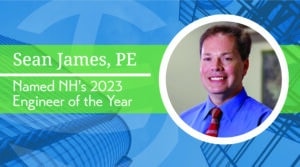 Sean James, PE has been selected by a jury of his peers from New Hampshire's engineering societies as the 2023 New Hampshire Engineer of the Year. This distinguished award will be presented on Thursday, February 23rd at the annual Engineers' Week banquet at the Grappone Conference Center in Concord, New Hampshire. The Structural Engineers of New Hampshire (SENH) association nominated Sean based on his record of professional accomplishments, service and contributions to the engineering profession and his numerous volunteering efforts to his community. Sean is a Senior Vice President and Division Manager for Hoyle Tanner's Ground Transportation Group, and member of the firm's Board of Directors. In his role as Division Manager, he is responsible for delivering bridge and roadway engineering projects and associated permitting to a diverse group of clients including state agencies, municipalities, and private clients. He leads a team of 36 professionals that includes structural and transportation engineers, designers, and permitting specialists while executing the transportation related strategic goals of the company throughout New England. In this capacity, Sean works extensively with a team of dedicated professionals to provide educational, training and advancement opportunities which is a deeply rewarding aspect of his role.
Sean is a graduate of the University of Maine where he earned his BS and MS in Structural engineering in 1993 and 1995 respectively. While working full-time at Hoyle Tanner he decided to advance his career further by completing an MBA at the Southern New Hampshire University in 2008. He maintains professional licensure in New Hampshire, Maine, Massachusetts, Vermont, New York, and Pennsylvania.
Sean is well known for the time he dedicates and volunteers to his local community, the Town of Candia, New Hampshire. His dedication was demonstrated over his 11-year tenure on the Candia Planning Board, having starting as an alternate member in 2006 and then becoming the Board chair from 2012 to 2017. During this time, Sean assisted and lead the Planning Board as it processed, reviewed, and voted on applications submitted by developers and other prospective builders for changes ranging from lot-line adjustments to major subdivisions. He  also served as Chair of the Candia Master Plan Steering Committee which delivered the current 2017-2027 Town Master Plan. He currently serves as the Vice President of the Candia Youth Athletic Association (CYAA) Board of Directors, and through this organization has volunteered and assisted with spring cleanup of soccer and/or baseball fields, volunteered as an assistant baseball coach for a combined team of kids from Candia and Deerfield, coached a flag football team and also served as a T-ball coach. Sean lives in Candia with his wife, Karie, and their two sons, Liam and Ryan.
Being named Engineer of the Year is one of the highest awards given to individuals by the New Hampshire Engineering Societies recognizing the outstanding contributions to the engineering profession, the public welfare, and humankind. Please join us in congratulating Sean on this extraordinary achievement!
*It's Hoyle Tanner's 50th anniversary this year! Keep an eye on our Facebook, LinkedIn, and Twitter feeds for articles and anniversary news!