The Wide Range of Projects I have worked on during my first 8 years at Hoyle Tanner
When I was first hired at Hoyle Tanner in June 2015, I joined the southeast aviation group in Florida and was expecting my workload to focus on airport design. While many of the projects I have worked on primarily consist of airport design work, I have been surprised at the variety of non-aviation projects that I've had the opportunity to work on for our clients over the past eight years. Three diverse projects that stand out to me are the Sebastian Seawall Assessment, the Lake Wales Walking Trail, and the Vero Beach Wayfinding Signage project.
Sebastian Seawall Assessment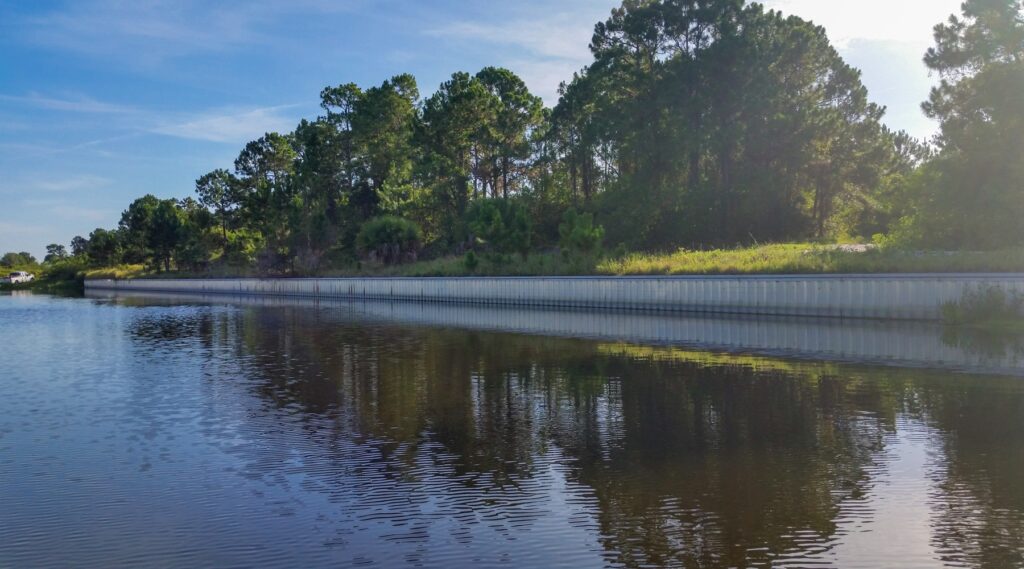 This project was incredibly unique and was quite an interesting way to start off my career at Hoyle Tanner. During my first few months, we performed an assessment and created a repair plan for the City of Sebastian's existing canal seawalls. This consisted of researching different types of seawall structures, creating a system to rank the seawalls to identify the ones most in need of repair, developing an inventory map of all the parcels needing evaluation, and going out in the field to evaluate the structures. I intended to spend my summer sitting in my office working on the computer, but promptly found myself on a small boat navigating through various canals taking pictures of seawalls.
Although I may never find myself doing a seawall evaluation project in the future, this project taught me that we can work on any kind of project our clients may need, and it certainly broadened my view of what a career at Hoyle Tanner could look like.
Lake Wales Walking Trail
Another distinct project I've worked on was a small walking trail for the City of Lake Wales. We designed a downtown walking trail complete with street lights, bench seating, and a gazebo. I found myself stepping into the lead creative role as I researched different styles of park benches, shade structures, monument signs, and more.
When I look back on my eight years at Hoyle Tanner, this project stands out to me because it was the first project where I was able to see my own design come to fruition. I remember visiting the trail for the first time after it had been constructed and I thought, "I designed this on a computer and they actually built it." Thinking about this project always reminds me that we are doing real work and that people can actually benefit from our ideas and designs.
Vero Beach Regional Airport Wayfinding Signage
The last project I wanted to highlight is the wayfinding signage project for Vero Beach Regional Airport. Like the previous two projects I've mentioned, this task was presented as something new that I had not done before. The client wanted to construct new monument signs surrounding the airport to help guide visitors as they navigated the area. This included designing an LED message sign – something we also had not done before. I did a lot of research on signage components, including field visits and calling vendors. I even coordinated a vendor demonstration of an LED message sign for the airport staff at one of our meetings, which was something outside of my typical job duties.
This project gave me a lot of experience in coordinating directly with clients to understand their needs and wants, communicating with manufacturers, and taking a bit more of the lead during design meetings. This project is getting ready to start construction and I'm excited to see our plans come to life.
Final Thoughts
I appreciate the opportunities I have had at Hoyle Tanner to broaden my skills by not being tied to one particular discipline. At the beginning of my career, I would have probably never guessed the variety of projects I would be working on. I'm looking forward to continuing my career here and seeing what other interesting projects might be in store for me in the future.
Are you interested in a career at Hoyle Tanner? We're hiring engineers at all levels and in all offices, so please check out our careers page! Also it's Hoyle Tanner's 50th anniversary this year! Keep an eye on our Facebook, LinkedIn, and Twitter feeds for articles and anniversary news!