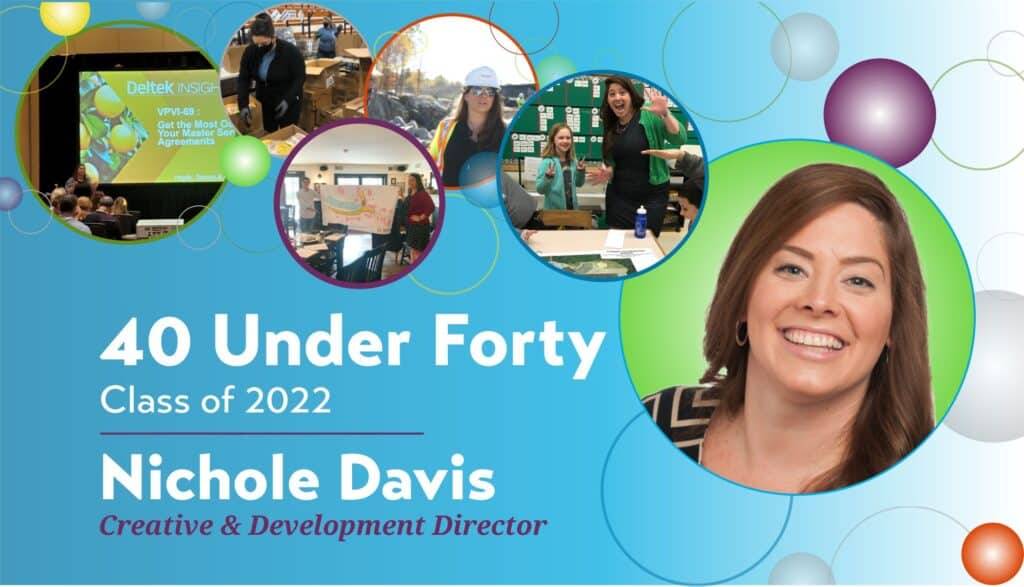 We are excited to announce that Nichole Davis was selected to be included in the 2022 New Hampshire Union Leader's 40 Under Forty class. This list recognizes individuals in the community who have significantly contributed to their field, their community and/or the state with the potential for more in coming years all before the age of 40! (List of qualifications here.)
Nichole's current role at Hoyle Tanner is Creative & Development Director, but she is so much more. She has led the development of sales tracking, successful coaching in our business development and client relationship efforts, and a successful 2021 rebranding of the firm. She has been a mentor to countless individuals in many areas such as networking, proposal writing, presentations, and interview techniques to name a few. Nichole also serves as our public engagement coordinator for projects, helping break down technical communication barriers with the stakeholders to build project consensus throughout the design process.
Outside of the firm, Nichole is a recognized as a leader in our industry and is an instrumental member of the American Council of Engineering Companies (ACEC-NH) Public Relations Committee where she promotes knowledge sharing with the firms' partners and others in the industry. She is instrumental on ACEC's planning committee for their annual Technical Exchange Conference in partnership with NHDOT to assemble nearly 400 engineering professionals for a broad program of networking and best practice sharing. In addition to sharing her experience statewide, Nichole has also been selected to speak multiple times at a national software convention where she has shared her expertise in the software program development and implementation at our firm.
One of Nichole's passions is giving back to the community, and it's usually in small ways, and usually every chance she gets. She donates blood to the Red Cross every eight weeks, designs and takes care of printed materials for the Manchester Animal Shelter (where she has also been known to foster and train shelter dogs and assist in the coordination of the annual Poker Run), and frequently donates her time, money and resources to those in need. At the office, Nichole volunteers, donates, and organizes charity drives for other organizations like Operation Santa Claus, where each year we help struggling families buy holiday gifts for their children. This year she coordinated our 27-person team to sponsor 10 children totaling over 135 gifts to donate.
"Since she joined the firm in 2006, Nichole has been a steadfast asset to our entire firm – she has never been faced with a challenge that she hasn't met head on. In fact, it seems that the more difficult a task is the more she is inspired and determined to tackle it – no matter how much effort or time is required. I used to wonder how she fits it all into her day or week – but once you get to know her better you realize that her passion for always improving herself and those around her is all the fuel she needs. She is a great teammate and an even better person always helping those in need. She is deserving of being recognized for this award and would represent this class of the Union Leader 40 under Forty and those that came before her with pride." – Christopher Mulleavey, CEO / President at Hoyle Tanner
Nichole is deserving of being in the 40 Under Forty class of 2022, and we are proud to call her a teammate. Please join us in congratulating Nichole on this latest professional achievement.