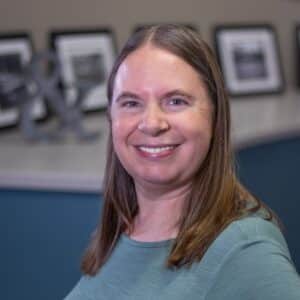 We are excited to announce that Environmental Scientist Joanne Theriault has been certified as an Associate Wildlife Biologist® (AWB®) by The Wildlife Society. 
To become certified, applicants must meet rigorous academic standards by demonstrating successful completion of multiple college-level courses in areas including Wildlife Management, Ecology, Zoology, Botany, Statistics, Communication, and Environmental Policy. Qualified individuals are judged on their ability to represent the Wildlife Biology profession as skilled and ethical practioners. To upgrade to the Certified Wildlife Biologist® designation, additional experience and expertise is required.
This is Joanne's second certification in just as many years. Two years ago, Joanne became a NH Certified Wetland Scientist. Joanne earned a Bachelor of Science in Biology from Northeastern University and completed a Master of Science Degree in Natural Resources with a concentration in Wildlife Biology from the University of New Hampshire. Her master's thesis focused on the breeding habits of vernal pool amphibians, their interaction with vernal pool aquatic insects, and how adjacent forestry impacts these complex relationships. These educational achievements and her more than 12 years of experience in the environmental consulting field have prepared her to provide the following services to our clients competently: wildlife habitat assessments, state- and federally-listed wildlife surveys, vernal pool surveys, and wildlife consultations for potential project impacts. and can provide wetland delineation and evaluation services.
Please join us in congratulating her on this achievement!