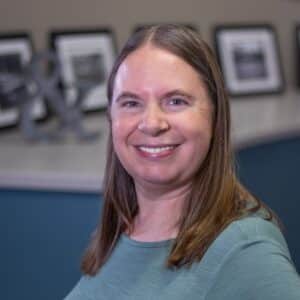 We are excited to announce that Joanne Theriault, Environmental Coordinator, is now a New Hampshire Certified Wetland Scientist (CWS).
To become a CWS in New Hampshire, applicants must first meet certain education standards with a college degree in Environmental Science or a related discipline with at least 24 credited hours of coursework in environmental sciences (botany, forestry, soil science, wetland, geology). Joanne also needed to meet experience requirements by practicing the discipline of wetland science under the direction of CWS mentors for a minimum of one year. CWSs in New Hampshire also must meet high ethical professional standards and provide references that will support her/his competency and professionalism. Finally, CWS applicants must pass both a written exam and a field practical exam to demonstrate their proficiency and qualification to practice wetland science.
Joanne passed her written exam spring 2020 and completed the certification by passing her field exam fall 2020. The wealth of knowledge that she has acquired during her training will allow Hoyle, Tanner to provide the following services to our clients: delineation of wetland and surface water boundaries, identification and assessment of vernal pools, classification of wetland resources, preparation of wetland functions and values assessments, and design of wetland mitigation solutions.
Joanne has over a decade of experience in wildlife biology, environmental permitting, and wetland science working in the field of environmental consulting. She received her bachelor's degree in biology from Northeastern University and continued her education at the University of New Hampshire with a Master of Science in Natural Resources. Both on and off the field, we are proud of Joanne's achievement. Please join us in congratulating her!