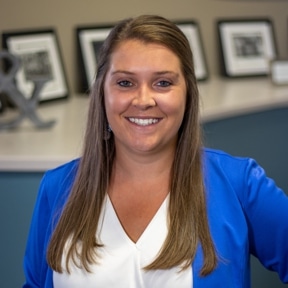 Katelyn Welch started her career at Hoyle Tanner as an intern while she finished earning her Bachelor of Science in Civil Engineering and then her Master's Degree in Structural Engineering, both from the University of New Hampshire. She has been full-time with us for several years, and we are happy to congratulate her on the next phase of her professional development as a newly licensed professional engineer in New Hampshire!
Katie's experience includes design calculations, design quantifications, construction observation and inspection, shop drawing review, and CADD drafting for municipal and state agency bridge projects. Katie has working knowledge of Mathcad, Erikkson Culvert, STAAD, LEAP Bridge Concrete, MicroStation V8i, InRoads, and AutoCAD. Recently, she became a SPRAT-Certified bridge inspector.
Though the PE designation at the end of an engineer's name may seem like a small abbreviation to add, it has to be earned through years of hard work. Not only does a PE-hopeful have to earn a bachelor's degree in engineering from an accredited school, but they also have to pass the Fundamentals of Engineering (FE) exam to become an Engineer in Training (EIT or EI, depending on the state). Then, the EIT must work for four years under one or more Professional Engineers in the engineering field. After successfully meeting these requirements, the EIT can apply to take the PE exam, and if he/she passes, the PE designation lets them sign and seal engineering plans and reports.
Please join us in congratulating Katie!