With summer waning, Hoyle Tanner Resident Engineers and Resident Project Representatives have been at the airports for construction season! We're taking a look at some of our construction projects that are going on right now.
BRADLEY INTERNATIONAL AIRPORT – DRAINAGE REPAIRS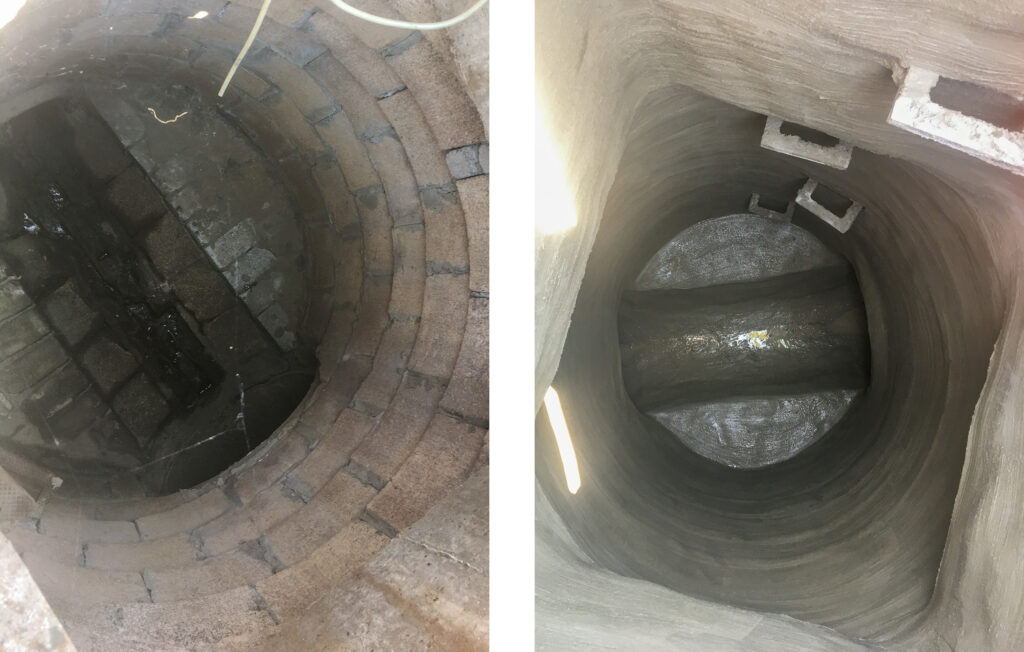 An innovative drainage repair method started this spring and will continue into the fall at Bradley International Airport.
Hoyle Tanner recently partnered with Vortex Companies to complete a study of the airport drainage systems. There was concern that the aging drainage systems could cause future operational and safety issues, especially in high-traffic areas. Based on the results of this study, the Hoyle Tanner team is now undertaking drainage repairs for stormwater catch basins and manholes on the airfield.
Geopolymer liner is an innovative method utilized for these drainage repairs. It is an alternative that can provide a more cost-effective solution than complete replacement. Geopolymer applications are ideal for catch basins, manholes, and large-diameter pipelines and are an eco-friendly solution comprising more than 50 percent recycled materials. Geopolymers deliver better physical performance than traditional Portland concrete and provide additional advantages, even in extreme environments, while significantly reducing greenhouse emissions. Site preparation and installation can be completed in a single day per structure. The material cures through polycondensation and bonds to itself so it can be applied in layers and under multiple mobilizations. Geopolymers contain greatly reduced concentrations of calcium hydroxide, commonly found in typical cementitious mortar, furthering the suitability in low pH environments. It easily navigates structure deformities, catch basin sump areas, and structure connections. This project at Bradley International Airport was substantially completed in spring 2023 with some following structure repair work scheduled for fall 2023.
AUGUSTA STATE AIRPORT – TERMINAL APRON RECONSTRUCTION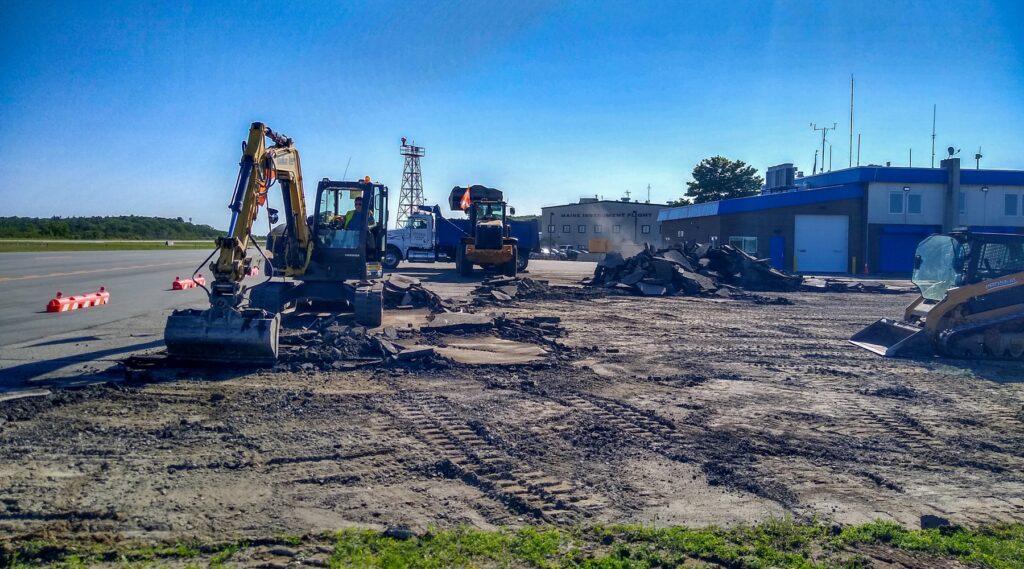 The 29-year-old terminal apron at Augusta State Airport was at the end of its design life and the pavement was experiencing significant cracks and creating foreign object debris (FOD); reconstruction has recently been completed. The project consists of removing approximately 5,140 square yards of pavement and placing approximately 4,930 square yards of new pavement and remarking. The purpose of the project was to extend the service life of the aircraft apron, maximizing the return on the investment on the original construction and reducing the cost of future pavement repair. The current apron pavement deteriorated to a stage where it could have been a hazard to aircraft. This may result in potential damage to aircraft and presents significant safety risks to air operations at the airport. The existing pavement is extensively cracked to the point that any maintenance is not cost effective.
Work began mid-June and is substantially completed (the work was expected to take 30-days to complete and was substantially complete after only 22-days)! A key accomplishment was realized by working closely with airport operations and the commercial service airline to designate access to the aircraft ramp in front of the terminal without interrupting daily flight departures and arrivals. This was done by shuttling  passengers by van to a remote aircraft parking position. This was important for operations as Augusta State Airport is a commercial service airport that provides four flights per day in the summer and three flights per day in the winter with service to Boston, Massachusetts.
PITTSFIELD MUNICIPAL AIRPORT – T-HANGAR CONSTRUCTION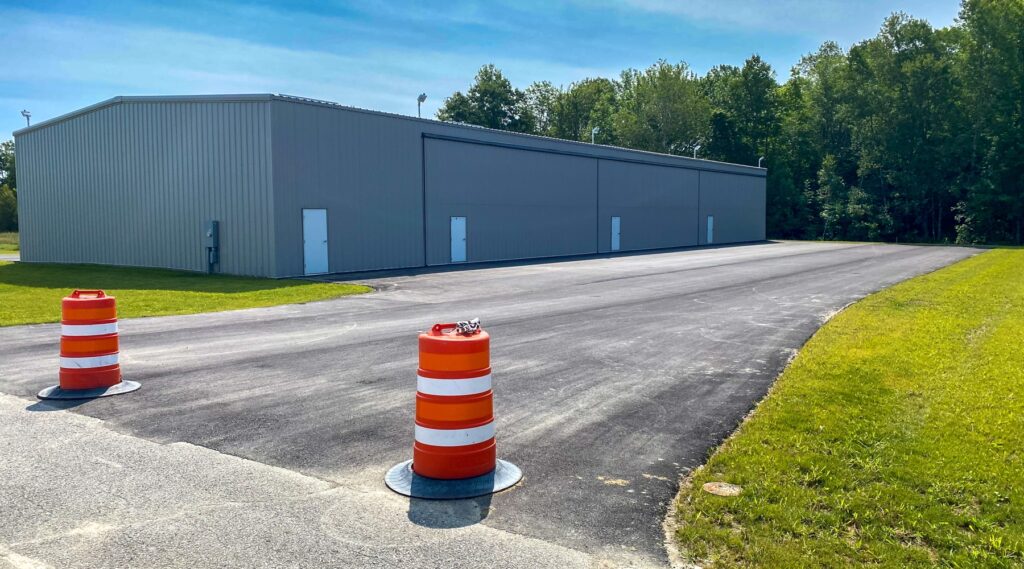 The Pittsfield Municipal Airport had a waiting list for pilots wanting to lease aircraft hangar space. Bids were opened in March 2022 with the work consisting of a new, six-unit T-Hangar with associated taxilane and apron. Funding for this project was challenging and some teamwork and innovative thinking were required.
With a price tag of nearly $2 million and limited funding from the Federal Aviation Administration (FAA), the Town faced the challenge of financing this essential revenue-generating project. However, by collaborating with the Hoyle Tanner team, FAA, and MaineDOT, the Town successfully bridged the funding gap.
Through value engineering and consideration and approval of alternative materials, the cost of certain project elements was reduced. MaineDOT was able to locate additional funds; the Town assessed their capital Improvements budget and allocated future funds towards this project; and FAA issued a multi-year grant using three-years' worth of entitlement funds.
Without all of this coordination and funding, the project would not have been possible. The airport has had a long waiting list of pilots needing hangar space; this project helps with that waiting list and in addition creates lease revenue for the airport. If an airport can not meet the demand for hangars, many times airport users will relocate their aircraft to an alternate airport that has the desired hangar space. This would have negative impacts on the growth and sustainability of an airport and its surrounding community. Pittsfield Municipal Airport now has six additional hangars and are excited to see them full!
AIRPORT DESIGN & CONSTRUCTION SERVICES AT HOYLE TANNER

Managing an airport is like running a small city. On any given day, airport leaders could be responsible for overseeing numerous department heads, making enhancement decisions within a rigid budget, managing airline and vendor agreements, liaising with local, state, and federal agencies, ensuring compliance with countless regulations, accounting for the needs of thousands of travelers, and looking out for the safety of everyone along the way.
When airport clients work with Hoyle Tanner, they can trust they're building a long-term relationship. Our aviation service capabilities include design, natural resource permitting, document preparation, construction administration, airport management support services, and airport financial analysis. Reach out to me if you have an airport in your community!
*It's Hoyle Tanner's 50th anniversary this year! Keep an eye on our Facebook, LinkedIn, and Twitter feeds for articles and anniversary news!