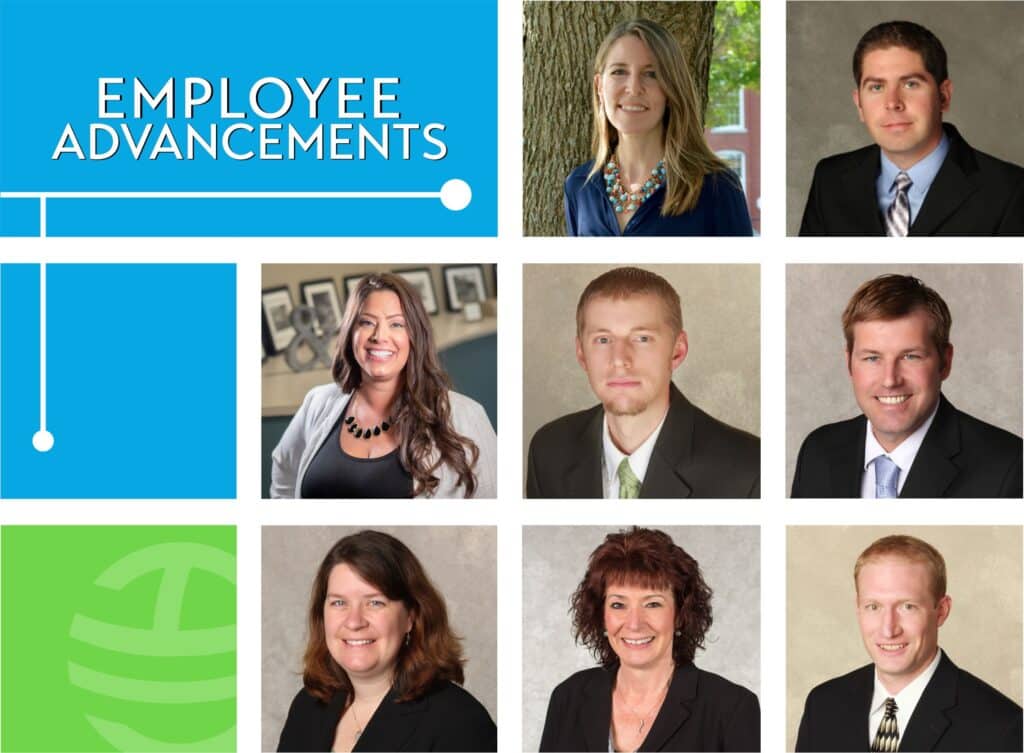 We are excited to announce the advancement of the following individuals who are being recognized for their service to the firm, our clients, and our communities. Five of the following professionals were promoted from Associate to Vice President, and three to an Associate title:
Jennifer Auster, PE: Vice President – Senior Environmental Engineer
Since joining our team in 2019, Jennie has been leading our wastewater treatment discipline and is the regional supervisor for NEME in Burlington, Vermont. She brings solid project management skills and proven success building relationships with clients – allowing for successful communication and positive project outcomes. In her few years here, she has significantly strengthened our environmental team with her project management, budgeting, scheduling and client coordination skills, while supporting clean water in Vermont including being appointed to the board of the Green Mountain Water Environment Association.
Josif Bicja, PE: Vice President – Senior Structural Engineer
Josif continually demonstrates excellence in the bridge engineering industry not only though his projects, but also in his mentorship. He has shared this knowledge at numerous presentations and through his involvement in multiple professional associations including as current President of the Structural Engineers of New Hampshire and as a long—time member of the National Society for the Preservation of Covered Bridges. Early in his career, he was named the New Hampshire Young Engineer of the Year and has been a leading technical authority on bridges since, having provided inspection, design, analysis or construction inspection for over a dozen covered bridges.
Nichole Davis: Vice President – Creative & Development Director
Nichole has excelled in creative and business development endeavors for Hoyle Tanner since starting with our team 16 years ago. Recently being selected as one of the Union Leader's 40 Under Forty, she has demonstrated her passion for the industry in a plethora of ways. Nichole also serves as our public engagement coordinator for projects, helping break down technical communication barriers with the stakeholders to build project consensus throughout the design process. She has also been at the forefront of recent rebranding and strategic planning for Hoyle Tanner.
Stephen Haas, PE, PTOE: Vice President – Senior Transportation Engineer
As a leader in our transportation group, Steve has nearly 20 years of experience in roadway design, traffic study and analysis, and infrastructure improvement opportunities. Steve has been the Project Manager or designer of many successful projects for numerous communities. His many accomplishments include being in the position of President of the New Hampshire Institute of Transportation Engineers from 2018-2019, and more recently achieving a Professional Traffic Operations Engineer® (PTOE) certification. His understanding of balance, forward planning, and attention to detail is what makes him a respected mentor to his team.
Aaron Lachance, PE: Vice President – Senior Structural Engineer
In Aaron's 18 years of engineering experience, he has proven himself to be a hard-working and dedicated leader who has taken on and succeeded with some of our largest and most complicated bridge, transportation, civil and structural engineering projects. He has years of experience in the design and management of bridge, roadway, utility, building, and miscellaneous structural projects for various municipal, state DOT, and private clients throughout New England. He continues to set a standard of leading by example, whether it's with his work on his projects, on the board of New Hampshire Public Works Association or as a member of the Structural Engineers of New Hampshire.
Suzanne Sheppard, PE: Vice President – Senior Airport Engineer
Suzanne's tenure with Hoyle Tanner extends over the past 26 years. As a senior member of our aviation team, she uses her engineering expertise to manage projects that include complex airfield pavements, drainage systems, airfield electrical systems and NAVAID design projects. She is a licensed professional engineer in New Hampshire, Vermont and Maine, and is an active member in several professional aviation industry associations including the Airport Consultants Council and American Association of Airport Executives. Suzanne continually shares her engineering expertise in developing innovative, cost-effective design solutions as she mentors junior staff.
Deborah Coon: Associate – Environmental Coordinator
Since starting with us 23 years ago in the Accounting Department and then to an administration role, Deb has advanced both her education and career to become an Environmental Coordinator on dozens of projects. She works closely with state agencies, resource agencies and private clients to provide research and coordination to receive relevant state or federal natural resource permits and funding for infrastructure projects. Her personal and professional strides have recently been recognized with the Dr. Pamela M. Langley Award for Exceptional Research in the Natural Sciences from the  Natural Sciences Department.
Shawn Tobey, PE: Associate – Senior Civil Engineer
Shawn has over fourteen years of experience as a Project Manager for large scale site development projects throughout New England. His expertise is in leading the design and permitting efforts for mixed-use, residential, commercial, industrial, manufacturing and renewable energy projects. He has been a major contributor to dozens of solar design and permitting projects, assisting clients in their mission to reduce carbon footprints. Shawn maintains professional engineer licenses in New Hampshire, Maine and Massachusetts.
Please join us in congratulating our dedicated professionals who continue to shape our firm.